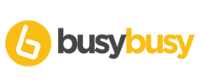 100% Free Construction Time Tracking Software
The Only Truly Free Time Tracking Software for Construction with Unlimited users, free forever.
No matter what your time tracking needs are, busybusy's app and cloud-based software can help you reduce costs and improve productivity. busybusy allows companies to track time with individual employees, by just the supervisors or by turning any phone or tablet into a kiosk for the easiest, most accurate timekeeping in the construction industry regardless of the job site.
GPS Time Clock for the Construction Industry. Simple, easy to use mobile time tracking and equipment tracking for Contractors. Save time, increase profitability, and eliminate time tracking hassle with busybusy.
Visit busybusy
Monsen Engineering Solutions
Salt Lake  |  Reno  | Las Vegas
800.821.0672